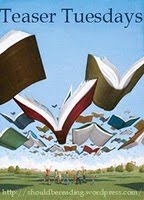 Happy Tuesday! Time for another Teaser. You know how this works: grab your latest read and share 2 Teaser sentences with us. No spoilers, please, and remember to tell us a little about the book so we can add it to our TBR lists.
This week, I'm reading The Grand Design
by Stephen Hawking and Leonard Mlodinow. Reading isn't quite right – I've got it on audio, so I'm actually listening to it. This might not be the best plan – driving through Chicago traffic yesterday, trying to concentrate on mathematical equations for renormalization in quantum dynamics? Not as easy as it sounds.
What I love about the book is the terrific sense of humor that seeps out into all aspects of the book. Which leads you to examples like this one:
A few years ago, the city council of Monza, Italy barred pet owners from keeping goldfish in curved goldfish bowls. The measure's sponsor explained the measure in part by saying it is cruel to keep a fish in a bowl with curved sides because, gazing out, the fish would have a distorted view of reality.
What's teasing YOU this week?