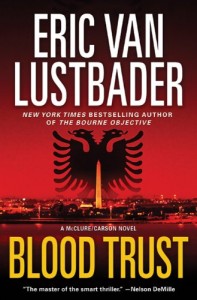 Okay, here's your chance to win your own copy of Blood Trust by Eric Van Lustbader. I'll be giving away one copy to a lucky reader, and I've got a paperback copy of First Daughter for my runner-up.
Here are the rules:
Contest runs through 5 pm EST on August 18, 2011.
Open to readers in the US and Canada only (sorry! shipping is expensive!)
You receive one entry for using the form below.
You can receive additional entries for posting the giveaway on your blog, Facebook or Twitter, and providing a link below or in a comment. (If your accounts on Facebook and Twitter are locked, or "followers only", the entry will not count.)
You must provide a valid email in the entry below (the entry is not visible on the site). You'll have 48 hours to respond by email and claim your prize.
That's it! No hide and seek, no essay to write, nothing difficult at all — just give me your email and click below! I'll pick a winner (and runner-up) next Thursday afternoon.
Good luck!