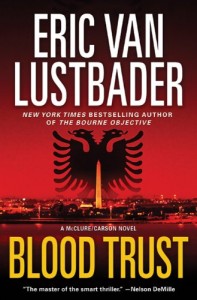 Eric van Lustbader's third installment in the Jack McClure series, Blood Trust
is just as exciting and fast-paced as the first two books, if not quite as believable. It's full of foreign locales, double agents, evil billionaires and hidden agendas – everything a spy novel needs! It also takes us deeper into the relationships between our key characters, primarily the relationship between McClure and former first daughter, Alli Carson, and the relationship between Carson and Jack's dead daughter, Emma.
Click here for a chance to win a hardcover copy of Blood Trust!
In the first book, First Daughter
, Jack McClure is called in to prevent a catastrophe when the daughter of the President-Elect, Alli McClure, is kidnapped. In the second in the series, Last Snow
, Jack and Alli team up in Eastern Europe to find a senator's killer and derail a political plot that could be devastating for the US. Last Snow ends with huge twist that could potentially derail the series. Instead, Blood Trust uses the twist brilliantly, picking up on Alli and Jack's lives as they have tried to move on.
Jack McClure is an odd sort of leading man. He was an ATF agent, but suffers from intense dyslexia, the sort of reading and comprehension problems that would seem to disqualify him from such a job. Instead, he has used his very different style of comprehension to his advantage, as it lets him see patterns and pathways most people don't. He also talks to his dead daughter. It's weird – rather like the Hamish character in A Lonely Death. She's the voice of his guilt, but she's also an active, observant character in the story.
I found this installment a little less believable than the last, with all of its conspiracies at the highest levels of the US government, unstoppable foreign dictators, etc., but plausibility is not high on my list of criteria for spy novels. I want action and adventure and plot twists and surprise turns of events and this certainly has all of that. Alli is in trouble and Jack is going to save her, no matter what it takes. There's her billionaire uncle with surprising secrets and tendrils reaching into all sorts of nasty places. There's Thate, the young man who is either their worst enemy…or their only hope. And there's a not-so-surprising visit from an old frenemy, bringing surprises of its own.
I really enjoyed Blood Trust. I have enjoyed the skillful way that Lustbader moves the series forward, without leaving behind characters and threads of plot that started in earlier books. the story is over-the-top enough to make a great spy novel, but it's not completely out of the realm of possibility. McClure is an interesting character, using what most people would consider a disability to his considerable advantage. I'm not sure how much I love the latest developments where Alli is concerned, but I am more than willing to give the author another book or two to see how they pan out.
For more on Lustbader and his novels, check out his website.
My copy of Blood Trust
was a review copy, provided free of charge. Want to win a copy of your very own? Click here for a chance to win a hardcover copy of Blood Trust.