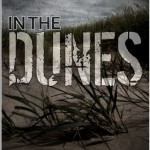 This story comes at a perfect time. As I posted earlier today, my current book is Naked City: Tales of Urban Fantasy
, full of stories about fae and other wildfolk, most of them taking place in urban environments. In the Dunes, a story/novella by John Leahy, runs along similar lines. Two good friends, on a golfing vacation in Ireland, find out that you ignore the warning signs at your peril, because you don't really want to know what's in the dunes.
Reviews like this are tough! The story is only 46 pages — not a lot of material to work with — and I would hate to spoil any of the surprises. It's got a couple of themes I like to it: the silent, knowing townspeople, the perfectly innocuous nature of the warnings, a very surprising turn of events and time to lament your mistakes. After all, it's no fun if you don't have some time to savor the inevitable bad end!
My one criticism is that Leahy needs to work on writing in an Irish brogue. One character's accent is spelled out for us, but it isn't thick enough to seem truly Irish, and the spelling didn't seem to match the pronunciation in my head. Perhaps he needs to hang out a bit in an Irish pub and try to translate what he hears. It's an excellent excuse for a trip to Dublin!
Leahy has a few published stories to his credit and I hope he continues to write. This is a fun, spooky little bit of fiction and it should be nestled in amongst some other similar tales. That would make for a very pleasant bit of reading.
For more information on John Leahy, check him out on Facebook.
PUBLICATION CREDITS:
2011 – Novellette In The Dunes available under publisher Lillibridge Press
2011 – Novella Harry Wall's Man available under publisher Melange Books.
2011 – Short story SpiderGirl167 available under publisher Racybunny.com. Writing under pseudonymn Mia Ryan
2010 – Novella Indomonu available under publisher Damnation Books.