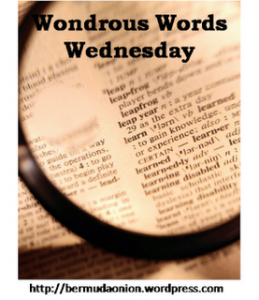 Happy Wednesday — it's time for some new words! You know how this works – share a few words from your current book that you had to look up, then head over to Bermuda Onion's Weblog to learn some new ones.
This week, I'm reading Naked City: Tales of Urban Fantasy
, edited by Ellen Datlow. Great short stories from amazing fantasy authors like Jim Butcher, Melissa Marr and Peter S. Beagle. I even found a few new words:
1. Pooka – A mischievous spirit in Irish folklore.
"How the Pooka Came to New York City"
2. Selkie – A creature or spirit in Scottish and Irish folklore that has the form of a seal but can also assume human form
"Yet in this same city, on this poisonous dock, the Pooka had just met a selkie in his man shape, hauling boxes that stank of iron as strongly as the air stank of dead fish."
3. Glede – a bird of prey
"His body was sore but no longer wracked with pain, and the burning glede upon his neck had cooled a degree or perhaps more."
That definition doesn't really make sense in context. Glede seems to refer to a charm or poultice of some sort that the Fae woman applied to the Pooka's neck.
4. Bialy – A flat bread roll topped with chopped onions
"When he brought Adie the coffee and half a bialy, she was sitting up in bed reading email on her laptop."
5. Roupy – infected with roup, a disease of the eyes and nasal passages
"A roupy old voice behind him said, 'Don't you get too close. He's mean."
What new words did YOU learn this week?