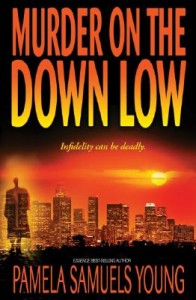 The cover of this book says: "Infidelity can be deadly." Murder on the Down Low
puts a whole new spin on infidelity in this thriller that focuses on an issue of particular interest to the African American community. Black men are being murdered — upstanding men, athletes, businessmen, pillars of the community — and they are being targeted because they are on the down low.
Stop back tomorrow for a guest post by author Pamela Samuels Young!
According to Wikipedia, "on the down low" refers to men who identify as straight, but still have sex with other men in secret. Obviously, this is not limited to the African American community, but this novel's focus is on black women and their reaction to it. A group of friends — Venetta, Special, J.C. and Nichelle — are determined to avenge the death of their friend, Maya. Maya died of AIDS, and she was exposed to it by her fiance, Eugene, who is on the down low. They want to use the law to get justice for Maya and to bring the issue to the attention of the larger community: they file a lawsuit against Euguene for wrongful death.
At the same time, prominent African American men are being murdered. There is no obvious connection between them, but there are whispers…this puts the police in an awkward position and brings up a host of other issues and prejudices in the most unexpected of places. Are the rumors credible? Are the police willing to protect the living at the expense of the victims' reputations?
For one of the women, a lawsuit is not enough. Special wants Eugene to pay. She wants to destroy him. So she embarks on some solo projects, designed to make Eugene's life a living hell. Unfortunately, they may also make her the prime suspect.
There is a lot about this book that I found interesting. I think Young does a very good job of showcasing all sides of this argument. There are gay characters as well as straight characters. There are people who are tolerant and there are unexpected bigots. Should the friends pursue their lawsuit, dragging out the suffering of Maya's family? How much blame should be shouldered by the women these men are involved with? Afer all, if they don't insist on condoms, they are putting themselves at risk. And what about society in general? Is there a place in African American society for gay men? Is being "on the down low" really a result of homophobia in the community? It's a lot to digest, and Young's characters continually bring new facets of the issues to the debate.
The book also has a pretty good mystery. There are several potential killers presented, some dead ends and plot twists, enough to keep a mystery lover interested. I did have some frustration with the friends and their behavior, particularly Special. No one seems to think things through very well. The lawsuit might be a good move, but it opens up Maya's estate to legal action. When J.C. takes her suspicions to the police, it's as if she never thought about how a black man might react to being told that men he respected were having secret gay affairs, that he might take them more personally then she does. On several occasions I wanted to strangle Special! She behaves like a spoiled child, completely unable to control herself, and she doesn't seem to care that her actions hurt the people around her and endanger the objectives they're working towards. The book deals with her fairly harshly and I thought it was well-deserved. She needed a serious whap with a clue-by-four, because she was really out of control.
Overall, this is quite a good read. There's a lot to think about, but it doesn't beat you over the head with it. It doesn't have the sort of magical ending where suddenly everyone is in agreement. But everyone does have a chance to consider the issues and change their opinions, and that's really what you want in this sort of book.
Don't forget to stop back tomorrow for a guest post from author Pamela Samuels Young. My copy of Murder on the Down Low
is an Advance Reader Copy, provided free of charge.