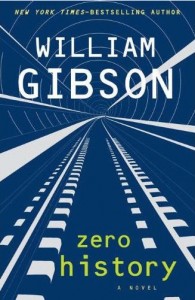 Zero History
by William Gibson was one of the emergency books I picked up on my trip to Amsterdam and what a lifesaver! It kept me from going crazy on the flight over, although it almost kept me from getting any sleep! It's a wild ride through secret territory that kept my attention every second.
Zero History is about fashion…sort of. It's about underground fashion — so secret that there are no stores, no catalogs, no websites. There is only a mailing list and if you're lucky enough to be on it, maybe there's a cryptic message. The meet might be in Tokyo. Or London. Or Perth. Bring cash.
It's also about technology. In Gibson's worlds, there is technology under the surface of things, behind the scenes, hidden from most people. Those flashes of light in the sky aren't UFOs — someone knows exactly what they are, but they aren't going to tell you. There may very well be a sinister purpose behind those traffic cameras on every corner, a purpose so secret that even the people who designed them don't fully understand how they can be used.
And then there are the people. There are some amazing characters in this book. There's Hubertus Bigend, a man as big as his name. He's got the sort of power that you don't see, that moves behind the scenes and makes anything possible. There's Milgrim — a former drug addict with a subtle but powerful gift. He sees things in ways that normal people do not. Bigend's money and influence got him cleaned up and now Bigend uses his special talents. And then there's Hollis, who worked for Bigend once and swore she'd never do it again. Now she's in financial trouble and her former boss is taking advantage.
I loved this book. It's fast-paced, it's well written, the vocabulary is terrific and the story does not go any of the places you expect it to go. The characters are unusual, like Fiona the bike messenger who is so much more than a bike messenger and Garreth, extreme-sport enthusiast, who may have connections that go even higher than Bigend's. I am fascinated by the hotel Hollis is living in, Cabinet, full of curiosities and strange artwork. (When I read this piece on the Los Angeles hotel, Petit Ermitage, I immediately thought of Cabinet.) I want to rent an apartment there and sleep under the big bird cage.
William Gibson looks like such a normal guy, but he writes these crazy, amazing books! Sadly, it doesn't look like his tour schedule is coming anywhere near my town, or the towns I travel to, but I keep hoping. There's more about him at his website.
My copy of Zero History
came from one of the bookstores at Chicago O'Hare International Airport.