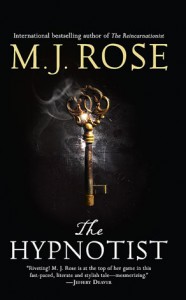 You start out feeling very sorry for Lucian Glass. He's late picking up his girlfriend; she ends up dead. He meets with an important witness; he gets bashed over the head and the witness ends up dead. He has nightmares, compulsions, crippling headaches. But what if it is all his fault? What if this is all related to his past…his past lives.
In The Hypnotist
, Lucian Glass is a member of the FBI's Art Crime Team. He is caught up in the case of Malachi Samuels, a renowned reincarnationist who is searching for Memory Tools, artifacts which may finally prove that reincarnation exists and help us access our past lives.
It's a complicated plot, with much of it is centered in New York, at the Metropolitan Museum of Art. There are stolen paintings, artwork with shady origins, espionage and an assortment of plots and subplots, designed to keep a reader guessing. There's a Matisse, a statue of a Greek god, and a Trojan horse. Throw in some startling coincidences, some past-life drama and a little romance, and you've got a pretty entertaining mystery.
I was a little confused in the beginning of the book; there is a lot of talk about Memory Tools, but no real explanation of what they are. I'm not sure if this was explained in Rose's earlier novels on reincarnation (The Reincarnationist
and The Memorist
), but even Google didn't give me much information. But that's a fairly small complaint. A little reading and I was pretty sure I knew what it was we were hunting for (although I admit that I have no idea how a "pot of fragrant wax" is going to help).
This is an excellent book for those who like their mysteries with twisty plots. The action comes at you from all directions and time periods. I found it very easy to sit down and lose myself in the tangled storylines.
My copy of The Hypnotist
is an Advanced Reader Copy, provided free of charge.