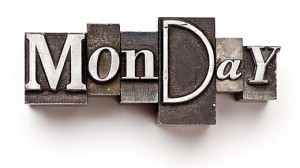 Happy Monday! This is going to be a busy week — and not just here at Alive on the Shelves. I've got presents to wrap (although my shopping is long done, thank goodness)! I've got food to cook, wine to buy and cleaning to do. Plus, I've got reviews to write, a little knitting to do and I need to find some time to read in all that. And did I mention that I'm working this week? Busy, busy, busy.
So, coming up this week…
Tuesday, December 20th: I've got my review of Jokers Club, a book I received from LibraryThing Early Reviewers. I've also got my Tuesday Teaser from my current book, Blood and Other Cravings
by Ellen Datlow. Great stories in that one — I should be able to find a great teaser!
Wednesday, December 21st: Wondrous Words Wednesday — I've got a few cool words from my current book to share.
Thursday, December 22nd: I'll be posting my review of The Stranger You Seek
, a terrific new detective novel. I would definitely add Keye Street to my All-Time, All-Fictional Girl's Night Out invitation list.
Friday, December 23rd: Countdown to the holiday! Since we're thinking about giving at this time of year, I'm going to talk about World Book Night and how you can give books you love to perfect strangers.
Saturday, December 24rd: For Saturday Snapshot, I think I'm going to pull out some photos from last Christmas that I took in The Netherlands and Belgium. I was spending some time there for work and there is something very old-world and magical about Christmas in that part of the world.
So, stop back every day this week for something new — grab a glass of eggnog or a cup of tea, the Christmas cookies are on the table in the corner, and make yourself at home by the tree. I'm celebrating the holidays with all of my best friends, near and far.