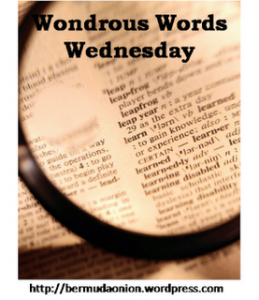 Happy Wednesday — it's time for some new words! You know how this works – share a few words from your current book that you had to look up, then head over to Bermuda Onion's Weblog to learn some new ones.
This week, I've got some words from my recent book, The Hypnotist by M.J. Rose. An interesting book about art and reincarnation — check out my review and the great guest post from the author.
1. Chryselephantine – (of ancient Greek sculpture) Overlaid with gold and ivory.
"At the heart of Iran's request was an eight-foot chryselephantine statue of the Greek god Hypnos, the god of sleep…"
2. Oculus – A round or eyelike opening or design, in particular.
"They'd stepped in front of an exposed stone wall with an oculus in its center."
3. Foxing – Small, irregular, brown blemishes on paper.
"If there's too much moisture in the air it can lead to mildew, mold and foxing of pages."
What new words did YOU learn this week?