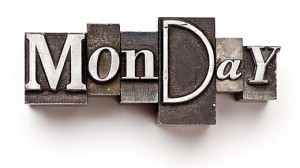 How can it be Monday already! I'm on the road and worked all day Saturday and most of the day Sunday, so it still seems like last week. But even on the road, the site must go on! This week, I've got the usual full plate of stuff for you:
Monday: just my recap so far.
Tuesday: I've got a teaser from my recently-finished book, The Night Strangers
 by Chris Bohjalian.
Wednesday: I've got a lot of cool words from The Night Strangers — an odd mix of herbs and aviation.
Thursday: My review of The Bad Always Die Twice
 by Cheryl Crane — really fun read! Definitely check back for that.
Friday: Mark your calendars to come back on Friday! I've got a great author interview with Thaisa Frank, author of Heidegger's Glasses
. Sometimes, getting good answers from authors is like pulling teeth, but this is a great interview!
Saturday: My weekly Saturday Snapshot. I haven't decided yet what to use, but I'm sure something will pop out, even if I have to dig into the archives.