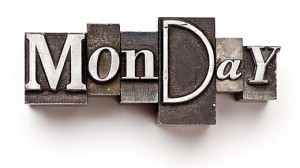 Okay, time for a little taste of what you'll get this week on Alive on the Shelves!
Monday: Some great new books came in while I was out of town, so you'll get a chance to peek in my mailbox.
Tuesday: I've got a teaser from my current book, A Train in Winter: An Extraordinary Story of Women, Friendship, and Resistance in Occupied France
 for Teaser Tuesday.
Wednesday: I hope to have some new words for you for Wondrous Words Wednesday and a review of the last (sniffle!) Robert B. Parker mystery, Sixkill
.
Thursday: Another review — The Informationist
. Really interesting mystery/spy novel with a fascinating female protagonist.
Friday: I will be talking about this month's Hot Reads. And in this case, I mean hot as in steamy!
Saturday: More Saturday Snapshots and I know just the picture I want to take.