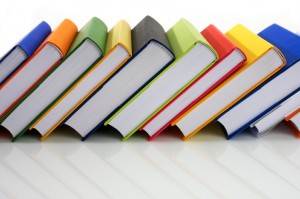 I got a great stash of books while I was in Detroit on business! It is so nice to come home, knowing there will be a little pile of packages, holding their little treasures, waiting for me to open them and set them on the shelves!
First, The Face Thief
by Eli Gottlieb:
Gottlieb introduces the mystery of the charismatic Margot, a promising journalist who morphs—with stunning panache—from a high-achieving affluent twentysomething into a grifter making her living preying on the weaknesses of men. Having studied the ancient Chinese art of face reading, she becomes an expert at reading people and is also able to rearrange her look and persona with uncanny skill to fit any social situation. She is an avenging angel, shattering marriages and draining bank accounts.
That definitely sounds promising! Next up, Raylan
 by Elmore Leonard:
With the closing of the Harlan County, Kentucky, coal mines, marijuana has become the biggest cash crop in the state. A hundred pounds of it can gross $300,000, but that's chump change compared to the quarter million a human body can get you—especially when it's sold off piece by piece.
So when Dickie and Coover Crowe, dope-dealing brothers known for sampling their own supply, decide to branch out into the body business, it's up to U.S. Marshal Raylan Givens to stop them. But Raylan isn't your average marshal; he's the laconic, Stetson-wearing, fast-drawing lawman who juggles dozens of cases at a time and always shoots to kill. But by the time Raylan finds out who's making the cuts, he's lying naked in a bathtub, with Layla, the cool transplant nurse, about to go for his kidneys.
I love Elmore Leonard. That should be a good one.
Third book in the stack, Bleed for Me
 by Michael Robotham:
A teenage girl–Sienna, a troubled friend of his daughter–comes to Joe O'Loughlin's door one night. She is terrorized, incoherent-and covered in blood.

The police find Sienna's father, a celebrated former cop, murdered in the home he shared with Sienna. Tests confirm that it's his blood on Sienna. She says she remembers nothing.

Joe O'Loughlin is a psychologist with troubles of his own. His marriage is coming to an end and his daughter will barely speak to him. He tries to help Sienna, hoping that if he succeeds it will win back his daughter's affection. But Sienna is unreachable, unable to mourn her father's death or to explain it.
Another winner, I think. I can't wait for it to get to the top of the TBReviewed list!
Carry the One
 also came in while I was out of town. This new novel by Carol Anshaw starts with an accidental death after a wedding. For the next 25 years, those involved connect, disconnect and reconnect. As one character says, "When you add us up, you always have to carry the one."
Last on the list is No Mark upon Her
 by best-selling author Deborah Crombie. So many good mysteries! Now all I need is some time to read them.