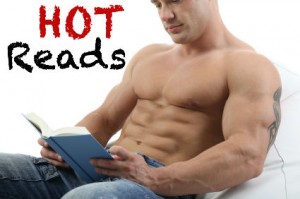 Welcome to my new monthly meme, HOT READS. This is especially for those hot, steamy books (come on! you know you've got a couple) that you really enjoyed and want to share with others. Here's how we play:
Hot Reads is a Monthly Meme, hosted by Book Savvy Babe and Alive on the Shelves, where we get to share our hottest read of the month!  Your choice can be any book, it doesn't matter the genre, the length, whether it's new or old.  If you read it during the month, and it raised your temperature, it qualifies to be a HOT READ!  To make things as simple as possible, Hot Reads will take place the 28th day of the month.  So every month, be ready to share your HOT READ pick!  
IMPORTANT: Due to content, this meme is open to participants 18 and older ONLY!
How To Participate:
Pick your HOT READ of the month (ex. on Jan 28, you pick your HOT READ for the month of January)
Make a blog post sharing your Hot Read pick.  Include in the post: book title, author, HOT READ button, and links to the hosts.  If you would like to include book teasers, book review, etc feel free!
Add the link to your post in the linky  at a host site and visit the other blogs to see what others chose as their HOT READ! (you only need to enter your link 1 time)
As always, don't forget to spread the word! (help us out by tweeting, facebook, etc)
Now, a HOT READ doesn't have to be hard-core. Maybe the author's photo made you hot! Maybe the cover art — all those broad shoulders and rippling abs — raised your temperature. Maybe there was just a scene or a setting that made you squirm in your seat — those all qualify! After all, we don't all have the same taste in men (or ladies, pick your pleasure), so why should we have the same taste in HOT READS?
This month, my HOT READ is
Working Out the Kinks
 by Angela Sargenti. How can you not love a book that starts out:
"Dear Diary,

Today I had my first threesome."
How hot is that! What I liked about this book is that it's kinky and fun — nothing too heavy and the women are definitely running the show. Even when Dana is over her man's knee getting a spanking ("Working Out the Kinks"), she's there because she wants to be. After all, she wouldn't have been such a naughty girl, teasing her boys, Evan and Shaun, the way she did, if she didn't really want that spanking.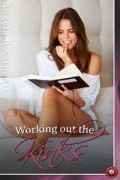 This is another novella, just three little stories, but it's definitely worth a look. There's naughty Dana in "Working Out the Kinks" and she has definitely earned her spanking. There's the diarist in our opening story, "XOXO" and she has a talent for talking her boys, Vince and Aja, around to her way of thinking. The middle story, "Autobahn," is told from the boy's point of view. Lisa has a surprise for Dylan…and he's not sure he's going to like it. But I think Lisa and Jared will convince him…in the end. Definitely in the end.
So, how about you? What have you read this month that got you hot and bothered? Pick a book, hop on the Linky below and join the fun!