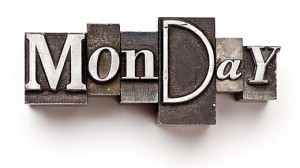 Hello from Detroit! This week, Detroit is the Windy City — it's blustery and below freezing. I am not looking forward to this weather, but I have some great things in store on the site this week.
Monday: My weekly review
Tuesday: Teaser Tuesday, as always, with a snippet of what I'm reading. This week, I have 2 — one from Working Out the Kinks and one from In Search of the Rose Notes, which is quite good so far.
Also, starting in the wee hours of Tuesday morning, look for this month's Hot Read. It's a little something especially steamy to look forward to every month.
Wednesday: Perhaps some new Wondrous Words, and a review of a book I just couldn't finish.
Thursday: a new review! There are so many books that I've finished, I'm not sure which review to share first, but I think it will be Raylan, by Elmore Leonard.
Friday: I'm going to be traveling late Thursday, so I don't know what I'll have time for on Friday.
Saturday: This week, my Saturday Snapshot is especially poignant. It's something that I find truly disrespectful and disheartening.
And who knows? Maybe something interesting, like last week's post about Nachu and Harry Turtledove, will pop up!