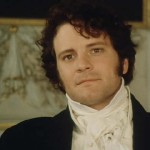 Okay, so now that author Nina Benneton has thoroughly explained the rampant love for Mr. Darcy, here's your chance to get a little Darcy-love for yourself. (As if Colin over there isn't enough for you!) Just use the entry form below and enter to win a copy of her new book, Compulsively Mr. Darcy.
The Rules:
Contest runs through 11:59 pm EST,  Thursday, February 23, 2012.
You receive one entry for using the form below.
One winner will receive an eBook, one will receive a print copy. Please indicate which you would prefer…but be advised that the print copy is available for US and Canada only.
You can receive up to 2 additional entries for sharing this contest on Facebook or Twitter, and providing a link below or in a comment. (If your accounts on Facebook and Twitter are locked, or "followers only", the entry will not count.)
You must provide a valid email in the entry below (the entry is not visible on the site). You'll have 24 hours to respond by email and claim your prize.
One more suggestion: Follow me on Twitter! I will be tweeting additional opportunities to reply and get a free entry!
In the meantime, fill out the form below, hop on Facebook and Twitter and spread the word, and be sure to check your email to see if you're a winner!