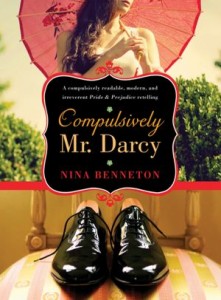 I'm on the road and struggling to keep up this week, but I've got a special Friday treat. Today, I've got Nina Benneton, author of Compulsively Mr. Darcy
, here to talk about her fictional fascination with her handsome leading character. And to make this even more special, I've got some giveaways for you! One electronic copy (international) and one print copy (US and Canada only). Check the link at the end of this post for the giveaway!
I could not resist asking Nina what I think is really the most important question of all, as far as Jane Austen fans are concerned…so read on to find her answers!
What is it about Mr. Darcy?  I am not a Jane Austen fan, but it's clear that Mr. Darcy has captured the attention of generations of women. What is it about him? Are there any other literary men (other than may be Dracula) who have as much power to inspire women?
Giveaways:  Sourcebooks will offer 1 print copy  (ship to US & Canada only) and 1 ebook in a form that Sourcebooks's offers (open worldwide). Click here to enter!
What is it about Mr. Darcy?
I would like to thank you to Lisa and Alive on the Shelves for inviting me here to talk about my favorite fictional guy.
What is it about Mr. Darcy?
Great question. Since my book's release earlier this month, I have been asked that question—by my husband, by my mother, by other writers, and by retired old men forced to accompany their wives to a book signing at an event called 'Chocolate and Romance.'
Trying to explain the appeal of Mr. Darcy to non-Jane-Austen fans is like trying to explain the coolness of Mr. Spock and his phaser to people who don't get Star Trek.  ("His ears are weird," my mother ruthlessly dismissed Mr. Spock's sexiness with the same flick of her hand the way she dismissed Mr. Darcy).
Nevertheless, I'm going to try to sell you Mr. Darcy.  I'm going to give you Benneton's top-ten list of why Jane Austen's most popular iconic literary hero has captured the attention of generations of women (ignore my mother!) and why we want to marry him.
Number 10:  Teeth.  Unlike Dracula, the other iconic literary man who's captured generations of women's attention, Mr. Darcy's canine teeth are harmless. One could safely sleep beside Mr. Darcy from sundown to sunup and have no fear of being struck by immortality and forever scaring little children. Plus, think of the household money you'd save on teeth-whitening products.
Number 9:  Duds. Mr. Darcy's got some cool duds. Okay, I admit the Seinfeld-poofy-white-shirt, and the frilly, snowy neckclothes are a tad overdone, but how could any woman resist a man in gleaming Hessians, exquisitely fitted topcoat, and a pair of buff-colored buckskin breeches?
So much better than hiding a package under a black cape, don't you think?
Number 8: Connections.  Mr. Darcy's got some great connections. He's the grandson and nephew of an earl. Yet, he's untitled, which makes it even so much better. You get the benefits of being in high society—without having to call your husband 'my lord.'
Number 7: Mother-in-law. He's an orphan. No mother-in-law to worry about. You'll always get to be the queen bee on Mother's Day.
Number 6: Friends. He has loyal friends who'll let him be the alpha dog. Darcy's best friend Charles Bingley and cousin Colonel Fitzwilliam will always be less confident and poorer than Darcy.  Trust me, the cavewomen were right: you always want your man to be the alpha dog.
Number 5: Other women. Junior high girls have it figured out. A boy's attractiveness increases proportionally depending on how many other bitchy girls 'really, really like' him.  Mr. Darcy has other women—bitchy, rich, skinny women like Caroline Bingley—lusting after him. And he didn't succumb. Didn't even cast them a pity glance. You'll always be his dearest, loveliest… even if your figure's a bit asymmetrical.
Number 4: Children. Mr. Darcy's a proven, tested father-figure material. He's been a guardian to his young orphaned sister for years now. And he had a near-miss when his sister almost eloped with a cad, so not only will our Mr. Fitzwilliam Darcy forever be a vigilant father tending to the flock, he's quite humbled at how hard parenting is.
Number 3: Servants. Elizabeth Bennet may have fallen in love with Mr. Darcy when she saw the grounds of Pemberley, but the cold fact is women fall in love with Mr. Darcy because of his housekeeper Mrs. Reynolds.  Besides that it speaks very well of a man when his servants adore him, what woman wouldn't want to be mistress to a house with a built-in, motherly housekeeper? She'll direct the other servants to do the tedious, hard work while all you have to do is to approve of menus.
And you know kind Mrs. Reynolds would tell you if there's a mad wife in the attic!
Number 2: Accent. So cool, so concise, so clipped. That British accent (so much better than a Transvylvania or even a Vulcan accent) sends shivers down a gal's spine. That accent tells you he's got what's known as British phlegm—that famous British reserve of stubborn endurance.  And you want a man who can stubbornly endure anything… especially if your mother is anything like Mrs. Bennet.
Number 1: Transformation.  Unlike Dracula and his descendants, who will sparkle and transform you, Mr. Darcy's willing to transform himself. To a better, more improved version. All before marriage.
Bliss!
A man who's willing to admit he's been a selfish-being all his life…until you showed him how insufficient were all his pretensions to please a woman worthy of being pleased. (Chapter 16, Pride and Prejudice).
You know this man has learned the valuable lesson of what's important in life.
He's already gone through his navel-contemplation period (before the wedding!). So that middle-age-crisis all sexy, repressed Regency males go through?
Not going to happen.
No third trophy-wife in his future. No impulse-purchase of an arrest-me-red high phaeton at fifty. No growing his hair a la Georgian mullet to hide his bald spot.
With all the reasons I've eloquently shared, how could you resist Mr. Darcy?
Author Bio:  As a child, Nina Benneton promised the French Catholic nuns who taught her in Asia that she would grow up and find the cure for cancer, effect world peace, and win a Nobel Prize for something, anything.  Alas, her own Mr. Darcy/Mr. Spock and the requisite number of beautiful children interrupted her plans. Tired of alphabetizing her spices and searching for stray Barbie shoes, she turned to writing.
Her debut novel, Compulsively Mr. Darcy, earned a Best Book review and the Reader's Poll Book of the Month February 2012  from Long and Short Review, 'Hands down…a must read for lovers and fans of classic romance.'  Fresh Fiction Review called it a 'tenderly written novel.'  Savvy Verse and Wit described it as ' 'More than a love story, Compulsively Mr. Darcy is about loving someone faults and all, accepting and not changing who they are, and growing together in love.  Steamy, sexy, and fun, it will have readers giggling and blushing at the same time.' Publishers Weekly wrote,  'Die-hard fans of everything Austen will enjoy this update of her classic tale.'
Find her on her website/blog:  www.NinaBenneton.com
Find her on Facebook:  http://www.facebook.com/pages/Nina-Benneton/273543669356518
Find her on Twitter: @NinaBenneton
Find her on her groupblog: www.AustenAuthors.com
She is tickled that her book can be purchased through The National Trust of UK (Mr. Darcy would have approved), though she hopes you can find her book everywhere books are sold.