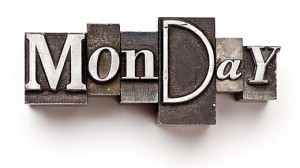 This week, I am going to make a concerted effort to get caught up on some reviews. I've got 2 partially finished, at least 2 more completely finished but not scheduled, and 1 or 2 more that I still need to get started on. (Of course, I also need to find some time to get a little reading done.) It's so easy to get behind on them! You finish a book, you get started on the next book and the next and suddenly you're in the weeds. But I promise to get caught up.
Tuesday: a Teaser from my current eBook,Machine of Death: A Collection of Stories About People Who Know How They Will Die
Wednesday: Wondrous Words Wednesday and some new vocabulary words for you
Thursday: My review of The Night Strangers
 by Chris Bohjalian. This is one of those half-finished reviews I mentioned. I jotted down a bunch of notes when I first finished the book, and then never got back to tidying them up into a review.
Friday: A guest post from proud self-publisher Aaron Wise about why he chose to go the selfpub route. He's got a really interesting story (and a zombie novella), and I think you'll enjoy it.
Saturday: My Saturday Snapshot – hopefully something brand new to share with you.
That's my week so far — what's on your schedule?