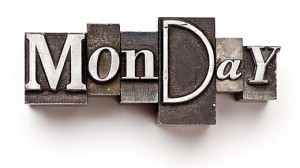 Coming to you from Houston! This may be a quiet week, but I hope to have a few things of interest for you.
Monday: No books came in while I was gone last week — can you believe it? But I have an order in for the new book by Nick Harkaway, Angelmaker. I talked with Nick on his website some time ago and asked about a review copy, but I guess he forgot. 🙂
Later this morning, I'll have an interview with author John J. Smith about his new novel, Finding Katie.
Tuesday: I will have a quote from my current book — whatever that turns out to be on Tuesday.
Wednesday: I've got a couple of new words for Wondrous Words Wednesday.
Thursday: Be sure to check back for my review of The Face Thief
 by Eli Gottlieb. This was a pretty good one!
Friday: I've got my review of Bleed for Me
 by Michael Robotham — you don't want to miss that one.
Saturday: Now, you'll know there will be a Snapshot! But even I don't know yet what it will be.