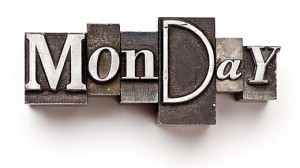 This week, I am in Huntington Beach, California! Sadly, it's not going to be as warm as I was hoping, but the beach is still the beach. Here's what I've got coming up:
Monday: I got a couple of new books last week to tell you about.
Tuesday: My teaser this week is from Angelmaker
 by Nick Harkaway. I'm about half-way through and absolutely loving it! The tough part is going to be deciding which teaser to pick!
Wednesday: Wondrous Words Wednesday – I've got some great words lined up for you this week.
Thursday: Check back for my review of So Pretty It Hurts by Kate White. It's a great little mystery and I can't wait to tell you about it.
Friday: I am hoping to have another review for you — all depends on the time I've got available.
Saturday: Saturday, I will be getting home from my trip after the red eye from hell. (Seriously – I land in Atlanta at 3:30 am with a 3 hour layover!) Hopefully, I will have some pictures posted in advance for Saturday Snapshot, because I plan to come right home and collapse.