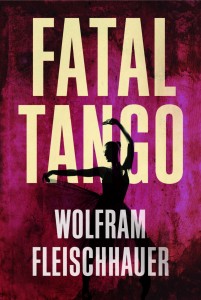 A special surprise today! I've got a giveaway for you for this holiday weekend – a copy of Fatal Tango
 by Wolfram Fleischhauer! I always knew that the tango was the dance of love and passion, but in Fatal Tango it is also the dance of intrigue and suspense!
Giulietta Battin has devoted herself to ballet, but when she decides to explore a new style of music—the tango—life as she knows it changes forever. She meets Argentinean tango dancer Damián Alsina and they begin a torrid affair…which quickly turns into a nightmare. Damián sabotages his own performance with a bizarre, improvised choreography. Giulietta follows her lover to South America, where her journey into the world of tango confronts her with the unspeakable horrors of the country's brutal past. But denial will never silence art, and as Giulietta learns to decipher the true significance of Damián's dance style, she finds the key to the mystery of her lover´s past and the terrifying truth that connects it with her own.
Now, I am going to make it very simple to enter this — nothing fancy, just leave me your email in the form below. (Your email will not be published, I promise.) The rules are below, along with the contest form.
The Rules:
Contest runs through 11:59 pm EST,  Friday, June 1, 2012.
You receive one entry for using the form below.
One winner will receive a copy of Fatal Tango by mail.
The contest is open to residents of the US and Canada only.
You can receive up to 2 additional entries for sharing this contest on Facebook or Twitter, and providing a link below or in a comment. (If your accounts on Facebook and Twitter are locked, or "followers only", the entry will not count.)
You must provide a valid email in the entry below (the entry is not visible on the site). You'll have 24 hours to respond by email and claim your prize.
One more suggestion: Follow me on Twitter! I will be tweeting additional opportunities to reply and get a free entry! And check back next week for more on the language of the tango.
In the meantime, fill out the form below, hop on Facebook and Twitter and spread the word, and be sure to check your email to see if you're a winner!