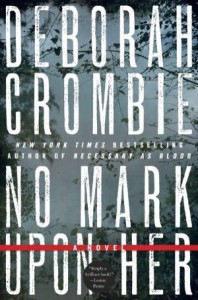 No Mark upon Her
 marks the beginning of yet another new mystery series for me. I was unfamiliar with Deborah Crombie, but she has apparently written a whole shelf full of novels featuring two interesting detectives, Duncan Kincaid and Gemma James. The newly-married couple are both police officers (Gemma is a Detective Inspector and Duncan is a Superintendent with Scotland Yard) and they are drawn into a case involving an Olympic hopeful, a disabled veteran, and a decades-old secret.
I admit that I don't know much about the sport of rowing, so there as a lot here that was new to me. Like any sport, it has its icons and legends, and the Leander Rowing Club certainly has a reputation. Rebecca Meredith was a member, a former college rowing standout who was considering a final run at the Olympics. She was also a high-ranking police detective, which makes the case a particularly sticky issue. To make matters worse, Meredith had been involved in a delicate personnel issue…and that may have led to her untimely death.
This is really a terrific mystery. Don't worry if you don't know anything about rowing — I don't, and it didn't hinder me in the least. It's the story of any world-class athlete's determination and dedication to their sport and the camaraderie that grows up between competitors. In rowing, there seems to be more mixing of male and female competitors than in some other sports, which only adds to the drama.
I think my favorite character was Kieran Connolly, a disabled veteran who lives in a boat shed, building and repairing boats for rowers and trying to recover from the damage that his time in combat has done. He's part of the search and rescue team that is called out to try and find Meredith, and he may have a more intimate connection to her, as well. You can't help but ache for him, with all he has had to overcome.
The interaction between Gemma and Duncan is fun to read. It has to be a difficult situation: high-pressure jobs, the recent marriage, the blended family, but they seem to be making it work. There is obviously a lot of love and respect between them.
What I love most is that this story didn't go exactly the way I thought it would go. I've read a lot of mysteries and I like to think I'm pretty good at anticipating where an author is headed, so it's always refreshing when they can surprise me. Crombie dangles a lot of possibilities and makes you wonder where the journey will take you. I think it will be fun to check out some of the other James/Kincaid novels.
My copy of No Mark upon Her
 was an Advanced Reader Copy, provided free of charge. For more on Deborah Crombie and her novels, check out her website.