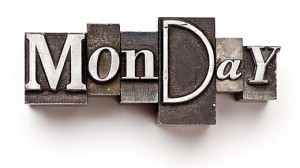 Wow! I can't believe it's a whole week that I've been away from the website. Work (you know — the stuff that pays the bills, not just the stuff that keeps me in new books) has been crazy and I haven't had the energy to do much beyond grabbing some dinner and collapsing into bed. I am hoping to do better this week.
Monday: I am back in Cincinnati this week, but my two-week trip gave me a chance to pile up some books while I was gone! I'll tell you all about them later today.
Tuesday: I have a great teaser from Sacre Bleu: A Comedy d'Art
 by Christopher Moore. Loving this one so far.
Wednesday: I've got a rescheduled guest post from last week. (Note to tour organizers: you've got to get the info to me a little more than 4 hours before the post is scheduled to go up!)
Thursday: I've got a couple of reviews to catch up this week, so I think Thursday will be all about the not-so-glamorous life of a flight attendant, and Cruising Attitude: Tales of Crashpads, Crew Drama, and Crazy Passengers at 35,000 Feet
 by Heather Poole.
Friday: I'll be traveling Friday, so maybe that rescheduled guest post would fit better here. There will definitely be something.
Saturday: I hope to have some new Saturday Snapshots to post for you.
That's my week on the web! Please be sure to stop back and see what I've got coming up.