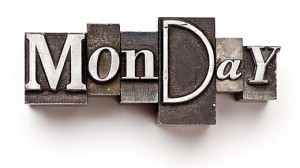 I have been an absentee poster for a while, but I am trying to be more disciplined. I am going on about 6 straight weeks on the road and that makes it hard to keep up here. Anyway, here's what I've got planned….
Monday: I've got scads of new books to tell you about! All I have to do is find time to review them all.
Tuesday: I've got some new books with great teasers! Not sure what I'll be reading on Tuesday, but I'll have a bit to share with you.
Wednesday: I've got some new words to share for Wondrous Words Wednesday.
Thursday: I have my review of The Meaning of Night which I loved — be sure to check back!
Friday: I have another rescheduled guest post — this one did not reach me in time (I was traveling and it came in at the last minute), but I've saved a little space to share it with you.
Saturday: I have a few more pics from my recent trip to Aberdeen that I want to share on Saturday Snapshot.
A busy week! Be sure to stop back for my scheduled posts and perhaps some surprises.