It's Monday, so it's time for new books! I got 3 great books last week, and one of them has jumped to the top of the reading list…
First, it's 1222
 by Anne Holt. This one has rocketed to the top of my TBR list. I can't wait to get started on this one!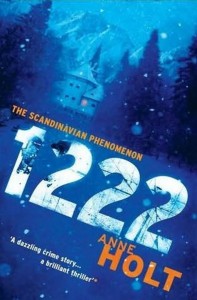 A train on its way to the northern reaches of Norway derails during a massive blizzard, 1,222 meters above sea level. The passengers head for a nearby hotel, centuries old and practically empty. With plenty of food and shelter from the storm, the evacuees think they are safe, until one of them turns up dead.
With no sign of rescue and the storm raging, retired police inspector Hanne Wilhelmsen is asked to investigate. Paralyzed by a bullet lodged in her spine, Hanne has no desire to get involved. But when another body turns up, panic takes over. Complicating things is the presence of a mysterious guest, a passenger who traveled in a private rail car and now stays secluded on the top floor of the hotel. No one knows who the guest is, or why armed guards are needed. Hanne has her suspicions. Trapped in her wheelchair, trapped by the storm, and now trapped with a killer, Hanne knows she must act before the killer strikes again.
Next, Buried on Avenue B
by Peter de Jonge. I really enjoyed Shadows Still Remain
, and this one sounds terrific:
When a home health attendant, Paulette Williamson, appears at Homicide South in Manhattan, she's introduced to the NYPD's Detective Darlene O'Hara and skeptically reports the confession of a senior citizen struggling with Alzheimer's. Gus Henderson, a former junkie and petty criminal, claims he murdered and buried his former partner-in-crime in a park off Avenue B more than a decade ago, a lowlife who fell off the grid and hasn't been seen since. The city agrees to excavate the alleged scene of the crime, and the police find a body—just not the one they were looking for.

The cops unearth the skeleton of a ten-year-old boy, neatly dressed and buried ceremoniously with a comic book, a CD, some pot, and booze. Instead of an easy open-and-shut case, O'Hara is faced with finding the murderer of a child, and the pressure is on the newly promoted detective to prove herself. The trail takes O'Hara from the seediest corners of the city and its cast of misguided players—a coven of preteen potheads in Tompkins Square Park, a sleazy art house photographer in Chelsea—to a retirement community in South Florida.

Driving headlong into the dark urban underbelly to find a killer, O'Hara uncovers a tribe of criminals who brazenly prey on the weakest members of the population, and she must stop the cycle before yet another child is lost to the depths of the city.
Last on this week's list is Gone
 by Cathi Hanauer:
For the past fourteen years, Eve Adams has worked part-time while raising her two children and emotionally supporting her sculptor husband, Eric, through his early fame and success. Now, at forty-two, she suddenly finds herself with a growing career of her own—a private nutritionist practice and a book deal—even as Eric's career sinks deeper into the slump it slipped into a few years ago.

After a dinner at a local restaurant to celebrate Eve's success, Eric drives the babysitter home and, simply, doesn't come back. Eve must now shift the family in possibly irreparable ways, forcing her to realize that competence in one area of life doesn't always keep things from unraveling in another.

Gone is an outstanding novel about change and about redefining, in middle age, everything from one's marriage to one's career to one's role as a best friend, parent, and spouse. It is a novel about passion and forgiveness and knowing when to let something go and when to fight to hold on to it, about learning to say goodbye—but, if you're lucky, not forever.