Someone needs to option this for a movie!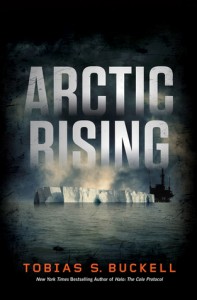 Arctic Rising
 by Tobias Buckell is an engaging thriller that would make a terrific movie. It's set in a not-too-distant future where global warming has radically changed the surface of the planet. Caribbean islands are completely underwater, the Arctic tundra has become prime real estate, and nation-states fight over dwindling natural resources. A mega-corporation has come up with a plan to reverse the warming trend and potentially save the planet, but at what cost?
In this novel, you can't be sure who the bad guys are, and the good guys are usually tough women. Anika, an airship pilot with serious street cred, is on a routine patrol when she picks up a scary radiation signature. Suddenly, she's being fired upon, assaulted, arrested and who knows what else, all without any sort of good explanation. She's aided by a friend, Violet, who could technically be classified as a bad guy (except for the fact that she's not a guy and depending on how you feel about the drug trade), but who has the contacts Anika needs to stay alive and out of jail. Anika is determined to figure out what's behind the radiation signature and who is trying to kill her – that is, assuming they aren't successful.
I did occasionally get bogged down in descriptions and wordiness, but it wasn't a huge problem. I love a good dystopia and Thule, with its radical nations and bizarre laws, is a great setting. There is definite ambiguity and plenty of suspense: it's hard to tell the good guys from the bad guys, and some of the characters may have to rethink their whole life's work, because what they thought would save the planet might very well destroy it.
I liked Anika, even if I thought she was a little naive and improbable. I love a tough, scrappy gal at the heart of an action story, and I was intrigued by the UST between Anika and Violet. That's one of the things that convinces me this could be a great movie — surely this is a great time for a tough, lesbian hero. Between the attention female athletes are getting at the Olympic Games and recent films with strong female leads, I think you could sell this storyline. Plus there is cool technology, a funky, dystopian setting (Thule), and lots of explosions and chase scenes. all told, a whole lot of fun. A good director could turn this into a great movie.
My copy of Arctic Rising
 was an Advanced Reader Copy, provided free of charge.