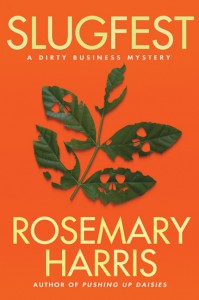 It's always a good thing to discover a new series that you really enjoy. A while back, I reviewed the third Dirty Business Mystery, Dead Head by Rosemary Harris, I immediately picked up the first book, Pushing Up Daisies and made sure to keep my eyes open for new installments in the Dirty Business series. I devoured Slugfest
 on my recent vacation.
Paula Holiday left New York City for the peace and quiet of small-town Connecticut. She opened a landscaping business and she's getting by, making friends with her neighbors, and occasionally stumbling across mysteries. Slugfest takes her back to NYC for The Big Apple Flower Show. An oddball local artist who produces sculptures from rusty metal pipes, old bicycles and other found items, is too much of a recluse to man a booth at the show, so Paula is selling sculpture and visiting her old haunts. Her plans for a peaceful week in the city get derailed when mysterious pranks — the so-called Javits Curse — get out of hand and bodies start turning up.
Slugfest is great addition to the series. It's still Paula, but she's away from her small-town neighbors, even if she's still surrounded by flowers and plants. She tries to help out a couple of kids she meets at the show and ends up the new BFF of a mobster's wife. There's a killer on the loose and she's being spied on by a Peeping Tom who criticizes her fashion choices:
(Note to self: permanently borrow red dress from Lucy. I will never be lonely as long as I'm wearing this. How did I get to be this age without knowing every woman needs a red dress?)
The twists and turns keep you turning pages, but what really makes this a fun read are the big personalities at the flower show. From the mobsterand the high school kids to the elderly benefactress and the tough-as-nails security guard, these people are funny and sweet and sometimes a little scary. It made a great poolside read and I will definitely be looking for the next Dirty Business mystery.
For more on Rosemary Harris, check out her website and Facebook page.