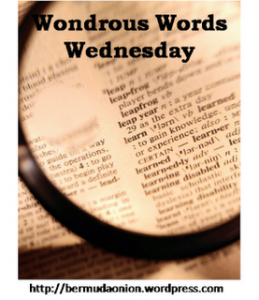 Happy Wednesday — it's time for some new words! You know how this works – share a few words from your current book that you had to look up, then head over to Bermuda Onion's Weblog to learn some new ones.
This week, my words are from Buried on Avenue B by Peter de Jonge. Tore through this one – terrific mystery! Be sure to check back for the review!
1. Libitinarii – Roman undertakers
"The text continues: 'The Libitinarii would then ensure…'"
2. Terpsichorean – of or related to dancing
"There are the acrobatic Hungony sisters, 'marvels of strength and agility,' and the Marvells themselves, contortionists who perform 'terpsichorean originalities and odd feats of gyration with curious comic episodes.'"
3. Dysplasia – Abnormal development or growth of tissues, organs, or cells.
"Each of those lines, which is a form of dysplasia, was left on the teeth after a serious illness or a very high fever."