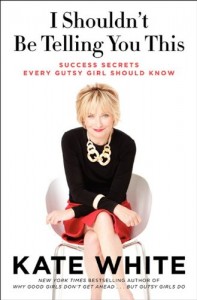 Sometimes, a book comes along for review at just the right time. I Shouldn't Be Telling You This: Success Secrets Every Gutsy Girl Should Know
 by Kate White comes along just as I am doing going through a bit of personal career evaluation, so there are definitely tips and tricks in this book I can use.
I like the structure of the book. It's broken down in three chunks related to success: how to get it, how to go big with it, and how to savor it. Each chapter has bullet points, breaking down key concepts. Makes it a very fast read and easy to remember the most important bits of information, and there are plenty of important bits. As I'm considering what's next for me in my career, contemplating job hunting for the first time in a decade or making a big change within my company, it's helpful to think back and look at what I can do differently this time around.
Author Kate White is a magazine editor. She's also an author (of course), a mom and an accomplished career woman. But Cosmopolitan magazine has different requirements than most of us do in our jobs. For most of the companies where I might interview with, a designer handbag isn't going to make the interview go more smoothly (especially since White's definition of "designer" is somewhat north of my classic Coach and Kate Spade bags). But her dress-for-success tips are still handy. I can see mistakes I've made in the past in "9 Things You Should Never Do in a New Job" that I won't make next time around. And although a lot of her suggestions revolve around the sort of corporate environment she's used to (lots of meetings, very project-oriented) they are good general guidelines that can be applied almost anywhere.
"Know What They Know About You" should be required reading for all job-hunters. I make a real effort to keep my LinkedIn page up to date, to make sure this website (which is not a paid site but still represents me out in the world) is timely and professional. I do not have a Facebook account (second-to-last person on the planet, I know), in part because I don't like mixing personal and professional. Take down the ski bunny pics, the "Best Songs for When You're Stoned" playlist, and be cautious with the political links on your site. Think of everything you post from an employer's POV, at least at the height of your job hunt.
The final section, on savoring your success, is also really important. Lots of women could use some advice on how to enjoy their success once they have it. How do you handle the craziness that comes with landing the big job? What happens when your dream job makes you miserable? How do you drain the swamp when you're busy slaying alligators?
That last question really made me think about my job. Basically, the idea is that if you set out to drain the swamp, you may have to slay a few alligators…but don't get so caught up in slaying alligators that you forget why you waded in in the first place. While you are fielding calls and handling projects, don't forget the big picture, the thing that you are really working towards. Do not let your big goals slip through the cracks.
I Shouldn't Be Telling You This: Success Secrets Every Gutsy Girl Should Know
 is a fun read full of great information. We may not all be working at Glamour, but we all need to present our very best selves at work if we want to get ahead. Why not take some tips from someone who has been so successful?
My copy of I Shouldn't Be Telling You This: Success Secrets Every Gutsy Girl Should Know
 is an Advanced Reader Copy, provided free of charge.
Oh! Don't forget to check out my review of Kate White's fiction! I reviewed So Pretty It Hurts back in April.