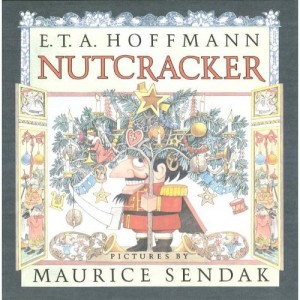 I am a firm believer that kids should have a lot of books, and this is a book that I would choose for my nieces and nephews. It's funny, but I've seen the Nutcracker ballet, but I don't think I've ever read the story before. Nutcracker
by E.T.A. Hoffmann and illustrated by Maurice Sendak is wonderfully written, perfect for some of the older kids in my extended family and it definitely made it onto the Christmas list.
The story is based on E.T.A. Hoffmann's 1816 story The Nutcracker and the Mouse King. It is the story of seven-year-old Marie, who falls in love the with handsome Nutcracker. The characters are fantastical: the seven-headed Mouse King, Princess Pirlipat, and the Queen of Mice. There is romance and adventure, battles and curses, ungrateful princesses and court astrologers.
In the introduction, Sendak tells the story of being convinced to design stage settings and costumes for the Nutcracker by the Pacific Northwest Ballet. I'm glad they convinced him, because I can't think of a better candidate — although I don't have children of my own, I not only have a wonderful copy of Where the Wild Things Are
, I have the little action figures. The photos I've seen of the ballet are marvelous: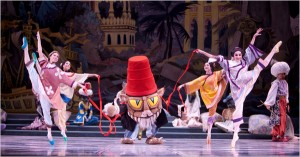 The story is a classic, the illustrations are beautiful. It would be a lovely thing for a child to find under the Christmas tree.