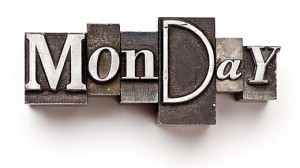 Okay, it's been a busy couple of weeks, but I hope to be back on track. I've got my novel finished for NaNoWriMo — well, not finished, but the 50,000 words uploaded. I've got some new books and some reviews to get caught up on and some photos for Saturday Snapshot. So, here's what's coming up:
Monday: I've got some new books and I will tell you about them this afternoon.
Tuesday: I'll have a teaser from whatever I'm currently reading.
Wednesday: I've been reading a lot of the "Best Of" lists — how about you? What do you think of them?
Thursday: I've got a few things to say about an audiobook I just finished, <i>Those</i>.
Friday: Hopefully, I'll have another review for you on Friday.
Saturday: On Saturday, there are always snapshots.
Sunday: A new Quotable — words about reading and writing, books and the people who love them.