Today, as promised, a guest post from debut author Mike Martin. As I've said before, I can't read every book that's pitched to me (at the end of last year, I cleaned out my inbox — over 600 review requests that I hadn't even had time to read) but I love giving new authors some exposure. These guest posts and excerpts are my way of giving a little something back. So, Mike Martin: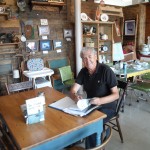 Just Start Writing and Don't Stop Until You're Done
I guess I have always been a writer but for many, many years that writing was confined to business and non-fiction work. This led to a successful career as a freelance writer and hundreds of published articles and thousands of rejection slips. I have also written a lot of poetry and still do. But that was often personal reflection or a way to express love or other emotions and shared only with those very close to me.
I had never really done any fiction writing and while I have always been an avid reader (I had two older sisters who were teachers) I had never even written a short story that wasn't based somewhat on events in my life or personal recollections. But somehow I felt that I wasn't a real writer unless I published a book.
So I wrote a non-fiction self-help book and that helped. But it didn't seem like it was enough. I somehow knew that I had to write a purely fiction book, at least one in order to feel satisfied. Now I had no idea of where to even begin writing a novel so I did what was suggested, which was to read about how other writers did it. One book that really helped was Stephen King's "On Writing: A Memoir of the Craft" and in this book and others I learned that the way to write a novel was to start and then to keep at it until it was finished. It didn't matter about the weather, or money, or the economy, or relationships, or even family or sickness or anything. If you want to write a book you just get up every day and you do it.
The other advice I followed was to write about what you know. No make that what you really know. I know an awful little about an awful lot. That makes me a good freelance writer. But I needed to write about something that I knew a lot about to have any credibility. So I found where I wanted to write about, a small community on the tip of the East Coast of Canada, and researched everything I could about it. It helped too that I spent a month there for six summers in a row helping my partner restore her grandfather's house. And I talked to people and found out about their lives and their history.
Then one day I heard a story about an old man who had been walking on a trail on the cape overlooking the town. They found the old man's body on the trail and nobody knew how he died. I had my story and the setting for The Walker on the Cape and the rest is history. The characters for the story just showed up and starting telling the rest of the tale. And they just keep talking to me. I have now finished the second book in the series which will be out later this year and I already know how book three will begin.
Thanks to Lisa for having me guest blog here today. It really is through the generosity of others that we become successful and I am grateful. Thanks too for reading this post and allowing me to share my journey so far. I'd love to hear
about your journeys too.
Mike Martin is the author of The Walker on the Cape
, a Sgt Windflower mystery. He can be reached at mike54martin@sympatico.ca
www.walkeronthecape.com
A little about The Walker on the Cape: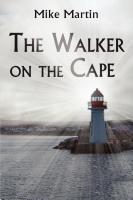 A man's body is found on the Cape in a small fishing community on the East Coast. At first everyone thinks it's a heart attack or stroke. But then it is discovered that he was poisoned. Who would do this and why? Finding that out falls to Sergeant Winston Windflower of the RCMP along with his trusted side-kick Eddie Tizzard. Along the way they discover that there are many more secrets hidden in this small community and powerful people who want to keep it that way.