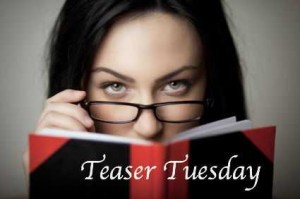 Teaser Tuesdays is a weekly bookish meme, hosted by MizB of Should Be Reading. You know the rules: grab your current read, open to a random page and share a two sentence teaser with us (no spoilers!). Be sure to tell us about the book, so we can add it to our TBR list!
This week, my Teaser is from my current read, Something Red
by Douglas Nicholas. I said earlier this week that I am trying to clean up some reviews I've had on the TBR stack, and I am really enjoying this one!
"He was too young and too tired to fret about what he had seen. Around him were the thick stone walls of the monastery, outside were the formidable monks of St. Germaine: he was safe enough at this moment, and warm as well. He slept; but he dreamed, and in his dream was a cruel amber eye."
Spooky, don't you think? And come on – I know you're wondering what he saw. Check back in a week for my review and I'll tell you what it was.