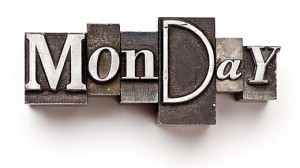 I'm getting a late start today, but here's what I've got scheduled this week:
Monday: Too late today for much of anything, but tomorrow…
Tuesday: Teaser Tuesday will include something from my current read, Something Red
by Douglas Nicholas.
Wednesday: It's been a while since I've had anything new for Wondrous Words, but Something Red has a lot of cool medieval words to look up and share.
Thursday: January is my month to catch up on some outstanding reviews (of some outstanding books). I'm starting off this week with Lake Country
by Sean Doolittle.
Friday: I got some new books for review that I am very excited about. I can't wait to tell you about them.
Saturday: Saturday Snapshot — it will motivate me to find something and take a few pictures.
Sunday: Another Quotable — interesting, funny, thought-provoking statements. This week, some comments about ebooks.