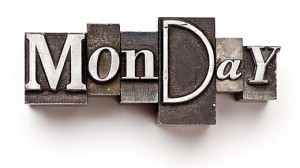 Here's what's coming up on the site this week. (Technically, it is still Monday, so I'm not too late.)
Monday: My weekly preview.
Tuesday: Teaser Tuesday will include something from my current read, It's All Too Much by Peter Walsh. I have a definite problem with clutter and organizing, so I'm hoping for great things from this book.
Wednesday: The final batch of medieval words from Something Red.
Thursday: A review! I am hoping to have my review of Something Red ready to go, and I have a few more reviews in the pipeline, too.
Friday: I've gotten some great new books in the past week, and Friday I plan to tell you about them, plus I've got a great guest post!
Saturday: Saturday Snapshot — I might dig through the archives and find some summer photos. I am not in the mood for snow.
Sunday: Another Quotable — interesting, funny, thought-provoking statements about books and reading.