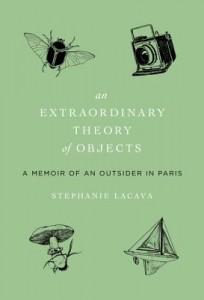 Stephanie LaCava tells the story of her childhood — uprooted from New York to a village outside Paris — by focusing on the strange objects she collected and obsessed over in An Extraordinary Theory of Objects: A Memoir of an Outsider in Paris
. It's an interesting way to tell a story, but I ended up far more interested in the footnotes, the stories and histories of the objects, than I was in LaCava's childhood.
LaCava is clearly an odd, solitary child. The sudden move from New York to Le Vesinet for her father's work did not help matters any. (LaCava seems convinced her father was involved in some sort of espionage; I'm not entirely convinced that isn't another of her youthful fantasies.) I found believing her stories about her obsessions with objects a bit of a stretch at times:
"I was obsessed with cabinets of curiosities, historical efforts to catalog and control nature's oddities. A favorite example was the encyclopedic collection of rare flora and fauna that the Holy Roman Emperor Rudolf II kept at Prague Castle in the seventeenth century."
Really? Not even a teenager and she's obsessed with obscure historical tidbits? I suppose it's possible, but it seemed unlikely. I know that she wanted to portray herself as haunted and unusual, but she struck me as undiagnosed, more than anything. She was a depressed kid who took long walks alone at night, bringing home beetles and mushrooms and lockets. It's sad that her parents seemed to have no idea what to do with her, and that made me a little angry. Maybe it was all for the best, maybe doctors and antidepressants would have taken away from curiosity and changed her unusual view of life. She seems to me to have re-imagined herself as one of her curiosities, going through life apart from all of us mundanes, and I found myself rolling my eyes instead of being moved. She seems less like an outsider and more like someone who just didn't want to fit in.
The best parts of the book are the extensive footnotes, telling the stories of the objects she collects. And not just the objects she collects: while there are sections on beetles and mushrooms and cameras, there are also sections on pajamas, mustaches and teabags, which weren't included in her collections.
An Extraordinary Theory of Objects: A Memoir of an Outsider in Paris
is a quick read, but I didn't find it as interesting as I had hoped. My copy was an Advanced Reader Copy, provided free of charge.