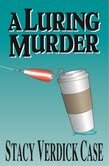 It's Friday and time to let the writers do the talking! Today, I've got a guest post from author Stacey Verdick Case about the thing that inspires her to keep writing.
I write, I know several other people who write, and it's hard work. I have tremendous respect for people who do this for a living, since I know how hard it can be sometimes to squeeze out a coherent sentence. So what do you do when you feel like you can't write anymore?
Unlikely Inspiration…
Writers have a tendency to have sloppy offices. At least the writers I know. There is an ordered chaos that makes complete sense to us. We have treasures and talisman that we like, or need, to see but there's always one extra special piece. One piece which the writer finds the most inspiring.
In among my clutter is one scrap of paper tacked to the edge of a shelf. What's printed on the paper spoke to me the day I decided that I couldn't write anymore. These words pushed me, and inspired me to continue. This quote came from an unexpected place as inspiration often does, the sports section of the local paper.
The morning that this quote came into my life, I had given up writing. I melodramatically burned every manuscript page I had on hand, so I could clear the way to convert my office back into a spare bedroom. Writing had become too tough. My agent had dropped me over a stupid disagreement on my current manuscript, and other agents seemed uninterested in my work. I felt like there was nowhere for me to go.
When I took a break from my manuscript bonfire, I decided to read the sports section. I am a huge hockey fan and if there's an article about the Minnesota Wild I'll read it. In that day's paper was an article about the team's goaltender Niklas Backstrom and his career.
Of course, I read it, not expecting an epiphany. Then I read this:
"I always remember that," Backstrom said. "Playing in the first division, being sent down, almost seeing the end of my career. I worked my way up from there. It's different when you've been really down. You know how to appreciate things when they're going well. The key is keeping your feet on the ground. When you've been down there, you don't want to go back. You'll do anything in your power to stay up."
It was one of those times when something speaks to you so deeply that you're stopped from reading any further. I read the quote again. Then I read it a third time and started to chuckle.
I'm pretty sure I said, "Duh!" out loud. At the very least, the word went through my head, in a mocking tone like a playground taunt. I was being stupid.
There were two ways I could go. I could get up and work harder, or I could lay down and witness the end of my career.
I typed the quote on a sheet of paper and tacked it to the edge of my shelf where I would see it every day. Among the chaos, it is a reminder of how close I came to chucking my career into the abyss, and why every day I need to work just a little bit harder.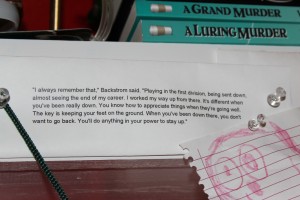 Author Bio:
Stacy Verdick Case is the author of the Catherine O'Brien mystery series. The second book in the series A Luring Murder was released in December. She is still a huge Minnesota Wild fan, still reads the sports section and still loves to find unlikely inspiration. Visit Stacy on the web at www.StacyVerdickCase.com