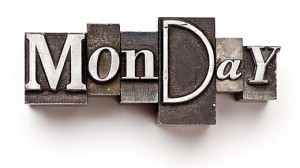 Here's what's coming up on the site this week:
Monday: My weekly preview!
Tuesday: Teaser Tuesday…plus a delayed guest post!
Wednesday: More Wondrous Words and some new books.
Thursday: Check back for my review of The Last Kind Words
by
Friday: I've got a Guest Post today from Elizabeth Corrigan, author of Oracle of Philadelphia
, talking about where to write.
Saturday: Saturday Snapshot –I have been really bad about getting my Saturday Snapshot posts up, but I know I will have something this week.
Sunday: Another Quotable — interesting, funny, thought-provoking statements about books and reading.