Joining me this week is my new reviewing buddy, Nanette Morton! She's a writer who lives in Ontario and we have been posting together on a couple of internet forums for quite some time. She loves to read and I always value her opinion on new books, so I know that her reviews will be a great addition. We'll be working through some of the backlog of books I've got for review, in between work and finding time for her own writing.
First up, Double Mayhem (A Seekers Mystery)
by Sam Berretti: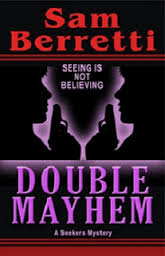 Double Mayhem has the makings of a good thriller. Protagonist Doris Watson, engineer, ex-Marine and likeable klutz, is on a forgettable blind date when she finds herself at the center of a covert government operation. Intrigued, she agrees to perform a safe and simple transaction, only to find that nothing is what it seems to be. The people that Doris trusts could turn out to be her worst enemies.
But while Double Mayhem is action packed and generally well written, its flaws prevent it from being an altogether satisfying read. While Doris Watson is a likeable and believable character, there are signs that the author is not entirely familiar with Doris's milieu. "Cornrows" have become part of mainstream popular culture; Doris, a thirty-year-old ex-Marine from Maryland, would not have to ask about them. Points like these may seem nitpicking, but occasional moments of inauthenticity impede the development of the story. More importantly, Berretti never seems to quite decide who the bad guys are: they are a disconnected jumble of factions whose relationship is never quite explained. In the end, Berretti relies on a stale motif and its accompanying motivation that really does a disservice to his novel. He also mixes the hyper-factual world of the thriller with elements of the supernatural—an uneasy mix given the expectations a thriller sets up in the mind of the reader. There are too many strings, and although some of them will be developed later on in the series, their presence does affect what could be edited into a very enjoyable read.
—Nanette