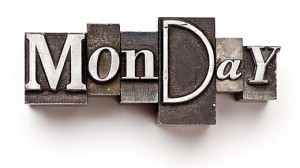 I'm a little late, but it's still Monday! Here's what's coming up on the site this week:
Monday: My weekly preview, plus a special sneak preview for tomorrow's post!
Tuesday: Teaser Tuesday PLUS! A special review – this is hitting the stores tomorrow and I thought it was a lot of fun.
Wednesday: Nanette has finished up The Clock of Life by Nancy Klann-Moren – check in for her review.
Thursday: Today is the day! My much-rescheduled review of NOS4A2 by Joe Hill.
Friday: I've got a stack of new books to tell you about. Come back on Friday to see what you should add to your TBR list.
Saturday: Saturday Snapshot — the parks here are green and gorgeous. Hopefully, I'll get a chance to take some new photos for you.
Sunday: Another Quotable — interesting, funny, thought-provoking statements about books and reading.