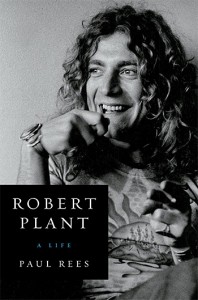 Now, this is one that I was very excited to get! My cousin, Ann, actually squealed when she saw it. I had a poster of Robert Plant on my wall as a teenager — you know the one — and I memorized Every. Detail. of that crotch shot. You did, too – admit it.
Anyway, this is getting fast-tracked to the top of my TBR list. I'm a few reviews behind, so I'll be able to take my time with it. Can't wait to get started:
Robert Plant: A Life by Paul Rees is the definitive biography of Led Zeppelin's legendary frontman. As lead singer for one of the biggest and most influential rock bands of all time—whose song "Stairway to Heaven" has been played more times on American radio than any other track—Robert Plant defined what it means to be a rock god.

Over the course of his twenty-year career, British music journalist and editor Paul Rees has interviewed such greats as Sir Paul McCartney, Bruce Springsteen, Madonna, Bono, and AC/DC. Rees now offers a full portrait of Robert Plant for the first time, exploring the forces that shaped him, the ravaging highs and lows of the Zeppelin years—including his relationship with Jimmy Page and John Bonham—and his life as a solo artist today.

Illustrated with more than two dozen photographs, Robert Plant: A LIfe is the never-before-told story of a gifted, complicated music icon who changed the face of rock 'n' roll.
Don't forget to check back for teasers and reviews!