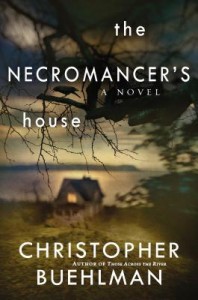 Okay, a special treat today! I've got an excerpt for you from Christopher Buehlman's latest novel, The Necromancer's House
. This one sounds fabulous and today, you get a chance to read the Prologue.
Andrew Ranulf Blankenship is a handsome, stylish nonconformist with wry wit, a classic Mustang, and a massive library. He is also a recovering alcoholic and a practicing warlock, able to speak with the dead through film. His house is a maze of sorcerous booby traps and escape tunnels, as yours might be if you were sitting on a treasury of Russian magic stolen from the Soviet Union thirty years ago. Andrew has long known that magic was a brutal game requiring blood sacrifice and a willingness to confront death, but his many years of peace and comfort have left him soft, more concerned with maintaining false youth than with seeing to his own defense. Now a monster straight from the pages of Russian folklore is coming for him, and frost and death are coming with her.
Click Here to read the Prologue
The Necromancer's House
is available now at Amazon. It's practically brand new – released October 1st, still has that "new book" smell, I bet. Check out the excerpt, then check out the author's website for more details!