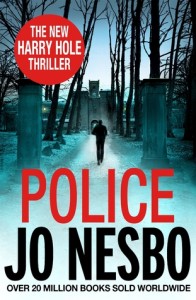 The easiest way to tell that Jo Nesbo is not an American author is that in the US, you could never get away with naming a character Harry Hole. That's just one of the things I love about this series. Harry is such a great character, and I think Nesbo is a fabulous writer, so I was thrilled to get a chance to read this one! It's the newest installment in the series, Police
.
Harry Hole returns–or does he?–in a terrifyingly paced, vertiginous new roller coaster of a thriller by the internationally best-selling author of The Snowman and The Redeemer, "the king of Scandinavian crime fiction" (Kirkus).

The police urgently need Harry Hole . . . A killer is stalking Oslo's streets. Police officers are being slain at the scenes of crimes they once investigated but failed to solve. The murders are brutal, the media reaction hysterical.

But this time, Harry can't help . . . For years, detective Harry Hole has been at the center of every major criminal investigation in Oslo. His dedication to his job and his brilliant insights have saved the lives of countless people. But now, with those he loves most facing terrible danger, Harry is not in a position to protect anyone.

Least of all himself . . .
The first Harry Hole novel, The Bat
,  is finally available in the US. Check back here for teasers and my review — also check out Jo Nesbo's website. Scroll down a bit to find a link to the first chapter of the audio version of Police.