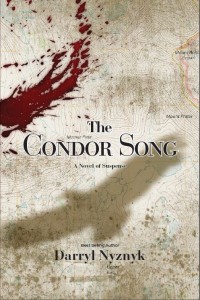 Billed as an environmental thriller "inspired by the Sierra Club's 1960s battle with Walt Disney Company over a proposed ski resort in the Sierra Nevada Mountains," The Condor Song
is compelling reading. Although informed by historical fact, the writing style is likable and engaging.  You want to sit down and finish the book in one sitting, even though it spans 350 pages.
The condor is the crux of the narrative.  Its mere existence makes the "golden staircase" deadly in more ways than one.  While most of the parties involved think they are doing what is best for the land, this book explores the ethics of developing what little wilderness we have left.  (The "Golden Staircase" is a part of the John Muir Trail (JMT), and since 1993 a part of the Pacific Crest Trail (PCT).  One site with photos and a description of the area is authored by Social Hiker.)
This thrilling story is primarily told from the point of view of Sean Donovan, anti-hero.
A dangerously bright and ethical man, Sean suffered at the hands of a greedy former colleague, Richard Wolf.  The case of the Silver Lode Valley will be waged by Richard, Sean, and an unidentified killer.  By taking on the pro bono case for a friend of the family, Sean has an opportunity to rebuild a successful life for himself and the endangered condor.
Nyznyk's thriller makes for an exciting read.  There's so much to envision: the grandeur of Silver Lode Valley, the brutal beauty of the condors, the anonymous killer.  The only thing that stretches plausibility in my view is the background sketch of Sean Donovan.  He's so beaten down that there's nowhere to go but up. Sean is such an underdog that it's hard to see him as a successful person. However, this underdog is what makes the book so interesting on a personal and environmental level.  Sean's past sets up several complex relationships which make the book a great read.
My copy of The Condor Song
was an advanced reader copy, provided free of charge.
~Christine Linial (from Austinista.net)