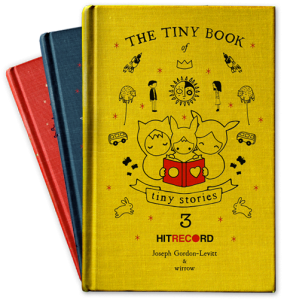 More new books! First up, The Tiny Book of Tiny Stories: Volume 3
from Joseph Gordon-Levitt's hitRECORD project:
From Golden Globe Award–nominee Joseph Gordon-Levitt and his online creative coalition hitRECord, and in collaboration with the artist Wirrow, comes Volume 3 in the Tiny Book of Tiny Stories series.

To create The Tiny Book of Tiny Stories, Joseph Gordon-Levitt, known within the hitRECord.org community as RegularJOE, directs thousands of collaborators to tell tiny stories through words and art. With the help of the entire creative collective, he culls, edits, and curates the massive numbers of contributions into a finely tuned collection.

The Tiny Book of Tiny Stories, Volume 3 once again brings together art and voices from around the world to unite and tell stories that defy size.
Check out the hitRECORD website – really cool stuff there – and be sure to check back here for news and reviews!