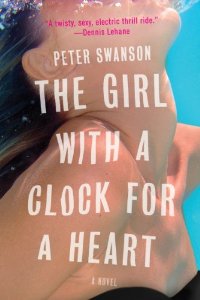 I don't recall requesting this one, but I am really looking forward to reading it. This will be turning up fairly soon in my reviews — The Girl with a Clock for a Heart
by Peter Swanson:
Already optioned for film, The Girl with a Clock for a Heart is Peter Swanson's electrifying tale of romantic noir, with shades of Hitchcock and reminiscent of the classic movie Body Heat. It is the story of a man swept into a vortex of irresistible passion and murder when an old love mysteriously reappears.

On an ordinary Friday evening at his favorite Boston tavern, George Foss's comfortable, predictable life is shattered when a beautiful woman sits down at the bar, a woman who vanished without a trace twenty years ago.

Liana Dector isn't just an ex-girlfriend, the first love George couldn't quite forget. She's also a dangerous enigma and quite possibly a cold-blooded killer wanted by the police. Suddenly, she's back—and she needs George's help. Ruthless men believe she stole some money . . . and they will do whatever it takes to get it back.

George knows Liana is trouble. But he can't say no—he never could—so he makes a choice that will plunge him into a terrifying whirlpool of lies, secrets, betrayal, and murder from which there is no sure escape.

Bold and masterful, full of malicious foreboding and subtle surprises, The Girl with a Clock for a Heart is an addictive, nonstop thriller—an ever-tightening coil of suspense that grips you right up to its electrifying end.
Be sure to check back for Teasers and my review. For more information on the author, check out his website at PeterSwanson.com.