A new mystery series to explore! This new addition to the Shelves is an Inspector Banks novel, Children of the Revolution
by Peter Robinson: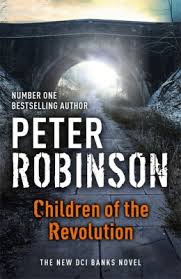 The body of a disgraced college lecturer is found on an abandoned railway line. In the four years since his dismissal for sexual misconduct, he'd been living like a hermit. So where did he get the 5,000 pounds found in his pocket?

Leading the investigation, Detective Chief Inspector Alan Banks begins to suspect that the victim's past may be connected to his death. Forty years ago the dead man attended a university that was a hotbed of militant protest and divisive, bitter politics. And as the seasoned detective well knows, some grudges are never forgotten—or forgiven.

Just as he's about to break the case open, his superior warns him to back off. Yet Banks isn't about to stop, even if it means risking his career. He's certain there's more to the mystery than meets the eye . . . and more skeletons to uncover before the case can finally be closed.