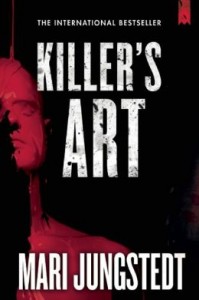 I seem to be gathering quite a collection of Scandanavian crime novels lately! I've got Joe Nesbo, Camilla Lackburg, Ake Edwardson…and now I can add Mari Jungstedt to the list. Killer's Art
is a very good mystery novel set in the art world of Gotland, an upscale, picturesque Swedish island. In the walled city of Visby, a killer is on the loose. He (or she) has killed a prominent art dealer, a man with secrets that will shock his friends and neighbors.
Egon Wallin is a respected art dealer on Gotland, which is described as the Swedish version of Martha's Vineyard. He's a married man with a successful gallery, plenty of friends and good contacts in the art world. He has recently hosted a very successful showing of a new artist, an artist who is about to sign a lucrative contract with Wallin. But on a cold February morning, a woman walking to work finds his battered body, hanging from the Dalman Gate.
What I enjoyed about Killer's Art is the story – there are plenty of great twists and turns, and plenty to leave you wondering. Jungstedt purposely leaves you wondering about the killer, about the motives, about the next victim. The killer is quite thoughtful and the police are playing catch-up. The killer is telling a story in art and metaphor, with painting and sculpture.  You get the feeling that he is much smarter than the police and you wonder if they will ever catch up. That's the sort of tension that keeps you turning pages.
There were some decent subplots, but a lot of the characters were more annoying than interesting. Detective Superintendent Anders Knutas is really unlikeable. He seems to dislike everyone he works with – even the coworkers he likes, he eventually complains about. His panicky efforts to keep Karin Jacobsson on-staff seemed bizarre to me – how could he be so dependent on her? Although he is outwardly friendly to Johan Berg, a reporter who has been involved in several other police matters, he is clearly resentful of him. As for Berg, the subplot focusing on his love life seemed over the top and frantic to me. All of his thoughts about Emma, the mother of his child, seem punctuated with exclamation points. I just wasn't moved by it. I was also a little irked by the way that some of these subplots (what was bothering Karin? what happened between Emma and Johan?) were left unresolved.
Another thing I had difficulty with was the writing. It might be a matter of translation, but there seemed to be a lot of fragments, bits of sentences that should have been connected in some way. Jungstedt needed a few commas, some semi-colons, maybe even a smattering of em-dashes to make things flow a little more smoothly. There are multiple chapters where something happens — someone sees something, goes somewhere, is clearly plotting the next murder — but of course there are no clear indications of who it is. That can be very effective; in this case, it was overused.
Still, I enjoyed the book very much. I can overlook a few missteps when there is a good story at the heart of it all, and this has a good heart.
My copy of Killer's Art
by Mari Jungstedt was an Advanced reader Copy, provided free of charge.