Now, I'm not sure that I remember requesting this one, but I think everyone could use a little happiness in their lives: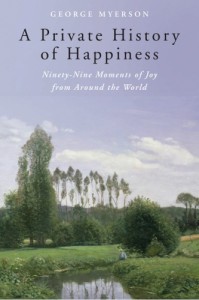 A Private History of Happiness: Ninety-Nine Moments of Joy from Around the World offers a fresh look at happiness that belonged to particular days as they were lived by real people—across many centuries and from around the world—and shows how these women and men experienced their varied moments of joy. From many written sources, notably personal diaries, letters, memoirs, and other life records, it presents a selection of ninety-nine vivid moments that really were happy. Each passage, each voice is different, and we are invited by these individuals to share what was specific to their joyful experiences—a place, a time, a relationship.

The ninety-nine moments of happiness are arranged by themes—Morning, Friendship, Garden, Family, Leisure, Nature, Food and Drink, Well-Being, Creativity, Love, and Evening—and each is followed by a brief description and commentary that encourages further reflection and exploration. The passages come from writers in North America and Europe, as well as in China and Japan, North Africa and India, and they remind us of the universal side of our being and our common capability of happiness.

Instead of advocating the latest guide or formula to achieve happiness, A Private History of Happiness presents a wider perspective on everyday moments of joy in different times and cultures.