At the intersection of Blue Velvet and Basic Instinct lies The Neighbors.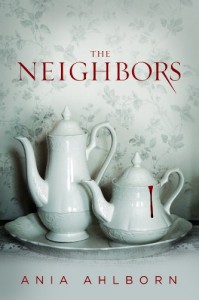 And that about covers it. What a fun (fluffy) summer read, for those of us who like a little blood and guts with our romance and thrills. There is absolutely nothing believable about this book, but I couldn't stop turning the pages.
Drew Morrison thinks he's been saved by his old friend, Mickey. Just as Drew had had enough of his alcoholic mother, of his miserable existence taking care of her, Mickey steps in and offers him a place to stay. Drew leaves his mother to fend for herself, quits his job, plans to start with a clean slate. Unfortunately, Mickey's place is more hovel than home; dark, dreary and dirty. But next door! Next door is nirvana:
"Easing his truck along the curb, he stared at the house just outside his window. It was gorgeous, a gingerbread house pulled straight from a fairy tale. This one had a white picket fence as well, rosebushes bursting with bright red blooms. Matching hydrangeas, heavy with blossoms, dangled from pots that hung beneath the eaves of the porch. A wind chime shivered in the breeze, small rounds of capiz shell sparkling in the sun. A hammock stretched across the right side of the patio."
The gingerbread house belongs to Red and Harlow Ward, Drew's new, too-perfect neighbors. Whether it's a plate of cookies or a job offer, they are right there to offer Drew everything he needs. With Mickey sulking in his room and acting strangely, Drew can't resist the offer of a home-cooked meal, especially when it's served up by the luscious Harlow Ward. But are these neighbors too good to be true? Why is Mickey acting so strangely – and what is behind the locked door at the end of the hallway? What secrets are hiding behind the pleasant facade of 668 Magnolia Lane?
Okay, there is nothing remotely plausible about this story, but the over-the-top quality is what makes it so much fun. The story just gets crazier and crazier and crazier! There's no deep meaning here, just a fun story, a few sympathetic characters, and a vampy villain you have to read to believe. It's exactly my idea of a summertime beach read.
My copy of The Neighbors
by Ania Ahlborn is from my private Kindle library.